Being a countertop fabricator most likely means that you don't have enough hours in the day to get everything done, let alone improve what you're already doing. Many fabricators are just trying to keep their heads above water! But if you are too busy to function properly, things are most likely falling through the cracks. And that's costing you way too much. What's even worse, you're unable to grow because you're already at max capacity.
One way to greatly reduce the many headaches of running a busy, growing countertop shop is to implement software in your shop. However, in order to do this and to get some of that time back, you'll have to invest more time upfront. Wait, what?! Don't worry, I'll do my best to explain how and why taking the time to buy and onboard software will make you more successful in the end.
What is onboarding?
Onboarding is training that involves you and a specialist in that specific software. This is when you and your team should be learning the ins and outs of the software and getting it set up for your shop. It can seem daunting or overwhelming to learn something new. Especially when you're already getting pulled in a million directions. You'll want a software company with experience in getting users up and running quickly and efficiently. This is why we have an onboarding program already put in place for you. It makes learning the software a million times easier. Because ultimately, we've learned in our many years of experience that those who don't onboard often don't get started.
Kristina, one of our Onboarding Specialists here at Moraware, emphasizes this point by saying, "By attending, you can start using the software immediately instead of running into roadblocks and putting it off."
Make onboarding work for you
To make the most out of onboarding, any team member who will be using the program heavily should participate. For example, we always recommend that whoever on the team is going to be quoting with CounterGo or managing the schedule with Systemize should be the ones on our onboarding calls.
Because each shop has unique processes, onboarding is the perfect opportunity to ask a lot of questions. Don't worry about feeling awkward or uncomfortable. Getting you to use the software as successfully as possible is the sole purpose of onboarding. Feel special yet?
Amanda, another Onboarding Specialist on our team, says that you should start using the software straight away. Even if you haven't had your first onboarding call yet. Once you start clicking around, you'll realize how much time it will save you and just how personalized you can make it. That can get you excited about onboarding.
Ask before you buy
No matter what type of software you are investing in to run your countertop business better, it's a good idea to ask questions about support and implementation before you make a decision. One of my favorite things about this industry is that each shop runs a little differently. And, the willingness to share best practices is awesome! However, because each shop is unique, it's important to have the ability to reach out for help. Asking how to best personalize the software for your set-up or get answers to your questions in a timely manner is essential to your success.
Onboarding at Moraware
Here at Moraware, we believe onboarding is so important to your success with our software that it's included for free. We want our customers to find the most value possible with CounterGo or Systemize.
"We're not just support – we're consultants! I will often have conversations with customers about how to have a more efficient process to save time and effort. That's not something you get from a lot of other companies," Amanda says. "We're very dedicated to our customer's success."
Onboarding, free support, and access to an extensive knowledge base are included for the lifetime of your subscription. This continuous support makes constantly improving your business, refining your processes, and growing your shop much easier things to do. In fact, you can request your onboarding sessions to be recorded so that you can use them for future training when you're ready to add to the team.
But don't just take it from us! Tanya from America's Dream Homeworks says, "Moraware support staff is amazing. They quickly adapted to our business model and helped with advice on needed dashboards and reports."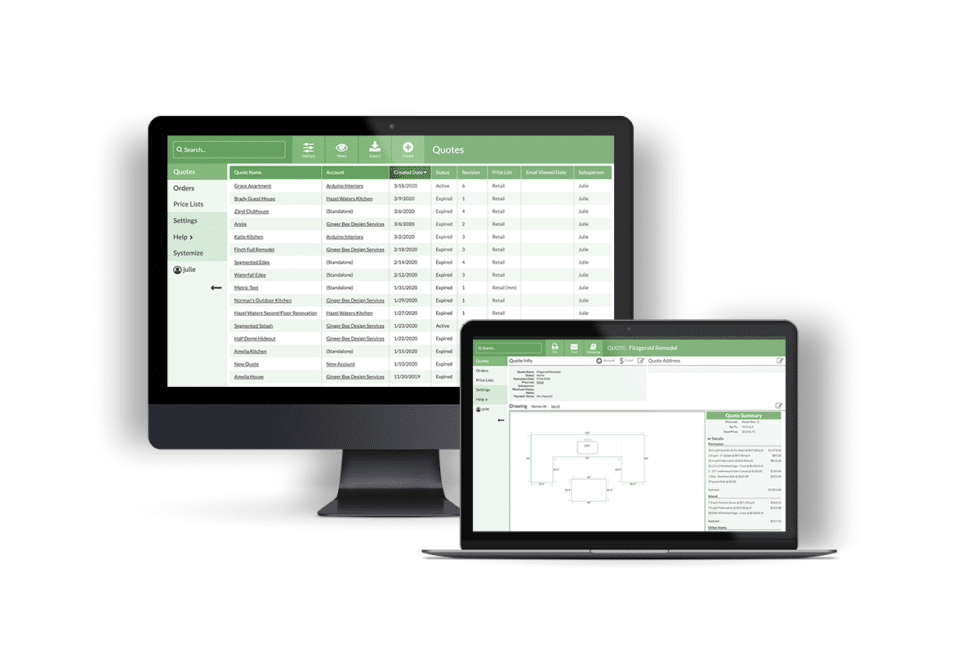 Interested in implementing countertop software?
Are you on the hunt for software that will help you solve bottlenecks and reduce growing pains? Thousands of fabricators are using CounterGo, our drawing and estimating software, to quote professionally in as little as 3 minutes. Our scheduling and job management software, has been providing fabricators with the ability to streamline their processes and prevent costly mistakes since 2002.
Our consultative approach starts with a demo and continues on for the lifetime of your subscription (for free!) with us. This ensures a successful and seamless implementation of software into your shop.